The moyeee CAST is a two-way broadcast platform for smartphone users that supports over 1,000 large-scale access processing.
Through moyeee CAST, organizations can use it for real-time events such as policy promotion and public hearings. In the case of companies, various interactive real-time events such as promotion, training, and seminars can be provided to customers. With real-time surveys and virtual space-based presentations, moyeee CAST not only increases the value of user experience, but also promotes efficient marketing with quick feedback from customers.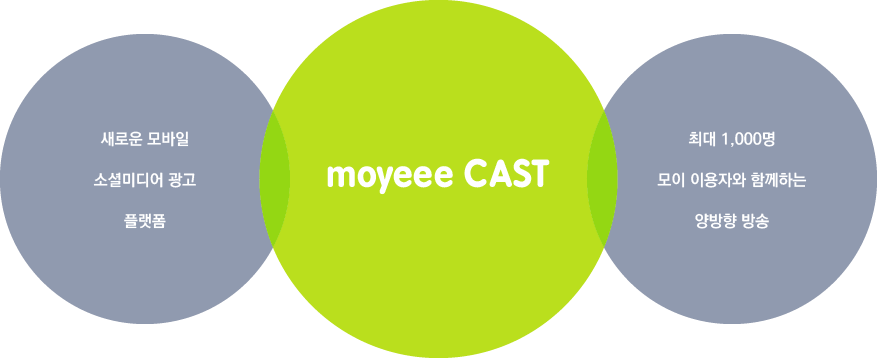 CUSTOMER
SEGMENTS

Health Care

Fashion
Notifying

Enterainer

Consultant

Promotion

Marketing

e-Learning
CUSTOMER SEGMENTS

Health Care

e-Learning

Enterainer

Consultant

Promotion

Marketing

Fashion Notifying
Events with moyeee app users
In moyeee CAST, real-time surveys and virtual space-based presentations help customers increase user experience value
and get quick feedback from customers to drive efficient marketing.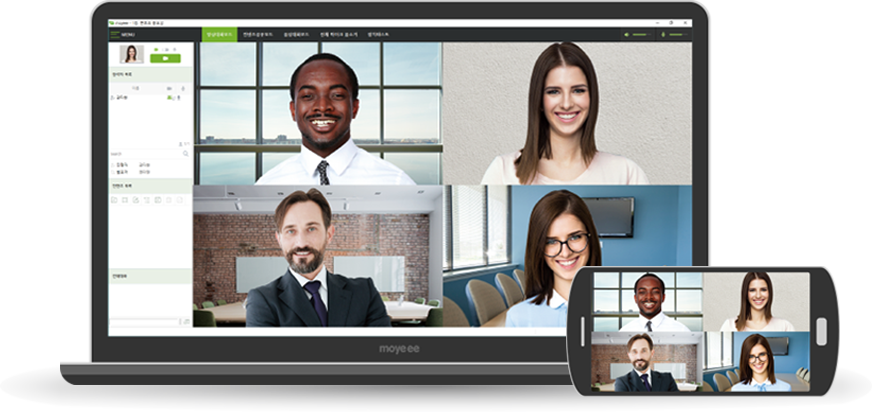 Content Sharing
Various contents such as images/documents/web pages/Youtube videos can be shared with video for dynamic presentation.
Show Your Theme Friend
If the moyeee app user makes friends with the theme created by moyeee CAST, they can maintain a lasting relationship as a follower of the theme.
Real-Time Survey
Survey with participants during a live event.
statistical function
You can view the number and trend of participants by theme/event, as well as figures and graphs.
moyeee CAST offers the following key benefits : user experience value that customers have never experienced before
FEATURE 1

Reduced network bandwidth by multicast tunneling

Multicast tunneling can dramatically reduce network bandwidth if many users connect from multiple geographically dispersed points, such as banks, to reduce the cost of high-cost WAN sections.

MPS : Media Processimg Server
DTS : Data Transfer Server
MPS : Representative Client
 

FEATURE 2

Massive Access Processing by Distributed Processing Server

Server decentralization technology, which enables users to support sessions with hundreds or thousands of people simultaneously, provides high-quality and reliable service for real-time interactive video communication in various forms, from small meetings to large-scale collective training and seminars.
FEATURE 3

Virtual Space-Based High-Inflow Video Conference

Existing video conferencing is a method in which each background is reflected in the user images that are accessed and listed in Grid format. In addition, shared content, such as PowerPoint, reduces meeting immersion with visual distribution.

The virtual space-based video conference of Hadenbridge can be combined with the contents of a video with the user's background removed from the 3D Depth Camera in real time without a separate blue screen. Increase meeting immersion with the new UX by placing user images on the virtual space background of shared by the user
FEATURE 4

Breakout

Most agencies and companies spend a lot of time and money on breakout. moyeee PLUS enables real-time, online implementation of the split meeting, enabling effective employee training to take place at a lower time and cost.
FEATURE 5

Maximum 225 images displayed

Strong media processing server (MPS) allows up to 225 user images per session to be displayed, increasing the concentration of meetings.